The Safest Shooting Games Ever!
GellyBall is similar to Paintball, Airsoft, and Nerf but it's own differnt breed. Nerf is fun, but you are limited on ammunition and once you run out, you have to grab Nerf darts off the ground to reload which is a hassle after that there's the clean up. Paintball is super cool, it's fast paced, and very competitive though it can be painful, expensive and messy. Airsoft it is very realistic and expensive to get started in the sport, it is dangerous, and can only be played at fixed locations because the BBs used are made of hard plastic which are known to dent wood, shatter glass, and break skin causing welts that really hurt. In Comes GellyBalls, made from soft polymer gel beads that are hydrated absorbing water to make up 80% of their mass at 8mm in diameter. Polymer being an organic material makes GellyBalls biodegradable, very simular to Orbeez only safer. Just like Orbeez GellyBalls are soft water beads that easily break so when shot from the GellyBall guns the balls burst on impact leaving no balls to clean up, no stains, and no pain for the users.
We are currently taking pre reservations for June of 2023 season! $50 reservation fee up front. Fully refundable at any time. We are looking to see if there is interest in this rental in our area and need at least 10 pre orders. If we do not get enoght orders we will fully refund you by June. If we do get enogh you will get an email confirming your party is on!
What Does My Gelly Ball Rental Come With?
10 GellyBall guns
2 Hour Maximum Time
10 Sanitized GellyBall Masks
Unlimited Ammo
8 Bunkers Included
$100 / additional Hour
1 Referee
Book Now!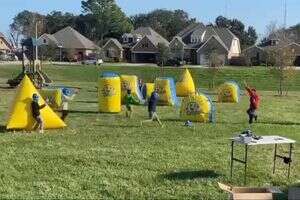 How Do We Play?
Our referee will arrive 30 min before your start time and set up your course in the area you would like. We must be able to have full view of all participants at all times. Our trained referee will over see game play and oraganize the teams as well as keep score. You can choose from games like capture the flag, splat king, last man standing, and GelTag. Our referee will make sure all rules are followed or players will have to leave the game. Once your party or event is over the referee will clean up and you wont even notice we were there!
Book Now!
We will arrange the set-up, organize and facilitate your GellyBall party outdoors or indoors. You do not need to worry about your party as Dino Jump GellyBall will handle all of your event needs. After your guests arrive we will do a brief safety meeting and start the matches; allowing to either participate, spectate, or even grab some peace and quiet time during the GellyBall Event.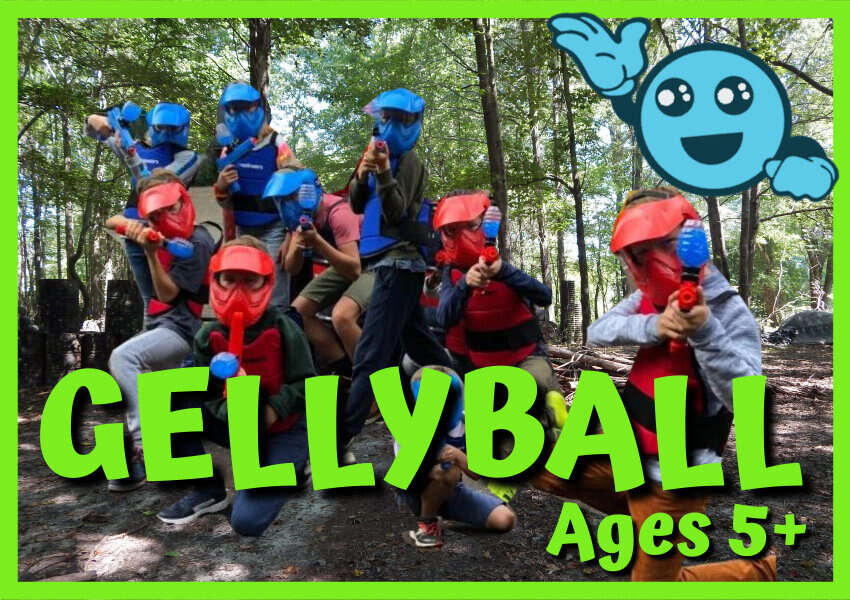 GellyBall Guns or Gel Blasters use a soft gel ball, much like a product that has been on the market for a while now known as Orbeez. These GellyBall Blasters are Fun and Unlike Nerf guns, where the players have to constantly reload with recycled ammo, a GellyBall Blaster holds 800 rounds without reloading! Just point and squeeze the trigger and they are that easy to shoot. Simple and safe enough for participants as young as 5 year olds to use, so now the younger siblings can play too.
Ask US About Your Gelly Ball Party