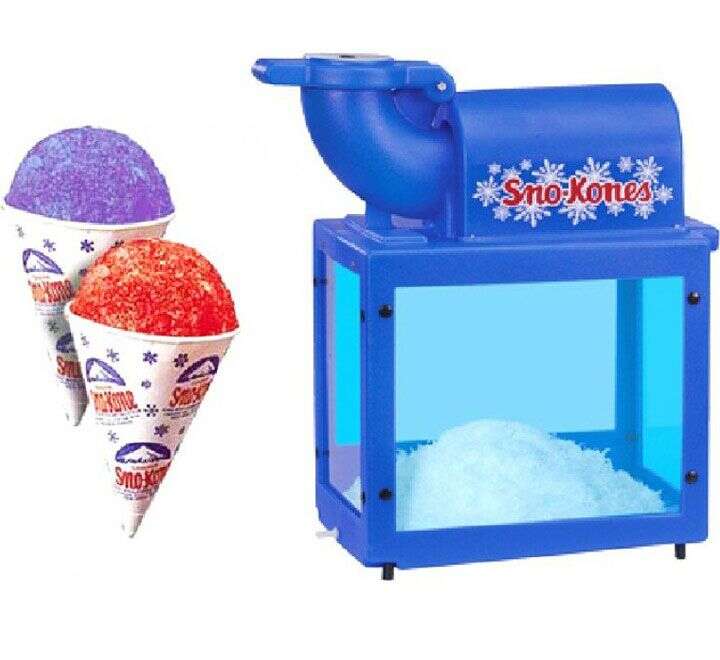 Sno Cone Machine Operation
Instructions for Snow Cone Machine Operation
Setup: • Setup Snow Cone machine on a secure table top • Plug in power cord into electricity outlet.
Making Snow Cone: • Fill the hopper to within an inch of the top with ice cubes. • Switch the motor on. Wait for the motor to come to full speed (a minute or so). • Push the pusher handle down against the ice in the hopper. Apply firm and even pressure to make the best snow. This allows the ice to resettle against the shaver head. • Once ice has been shaved and has collected in the bottom compartment, use scoop to fill cone(s) with the shaved ice. Apply any flavored syrups as desired.
• Caution: Never put any object into the snow cone machine body while the motor is running. Serious damage can occur to any body parts or objects that are placed inside the snow cone machine hopper.
Potential Problems: • Too much pressure will result in snow that is coarse; too little pressure will make the snow mushy. • Make sure electricity cord is plugged into the electricity outlet or machine will not operate
Book Now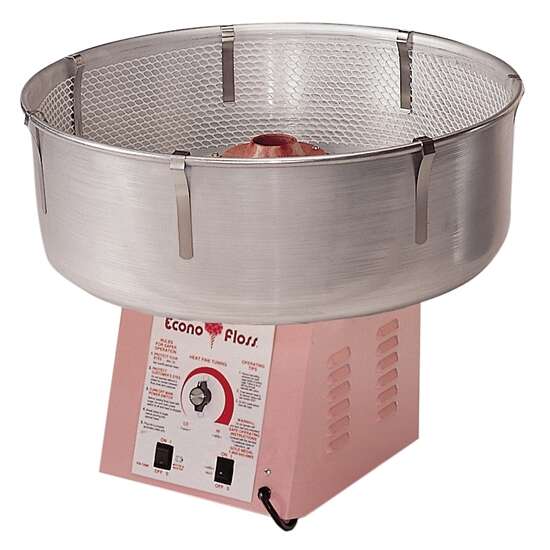 Cotton Candy Machine Operation
DO NOT touch the spinning floss head.
DO NOT fill the spinner head with sugar while it is rotating.
DO NOT pour water into the head of the cotton candy machine.
DO NOT put hands near rotating spinner head.
DO NOT lift the cotton candy machine by the spinner head.
Use a floss cone to collect cotton candy.
Place the unit on a sturdy and level countertop or base. Do not plug in the unit at this time.
Next, Flossugar into the spinner head, only filling 90% of the spinner head.
Manually turn the head to balance out the sugar and then plug in the machine.
When ready to start, turn main switch and heat switch on. Wait about 3 minutes.
Once the machine is running, you will want to let a nice amount of floss accumulate in the pan.
When you are ready to start removing the floss, take your floss cone and insert it into the web of floss.
Lift the cone up with a ring of floss attached and rotate the cone around the floss. Do not roll floss while the cone is inside the pan. This will pack the floss too tightly. When you are done making cotton candy or you need to add more flossugar, turn the heat switch off and allow the motor to run for about a minute to allow any remaining sugar to spin out and the head to cool down. Then turn off the Motor & Master switch.
When you are finished making cotton candy for the day, run all sugar out of the floss head.
When empty, turn the heat to the highest position for approximately one minute to clean the band by baking off any remaining sugar. Remember, never put water in the floss head.
Product Link 1