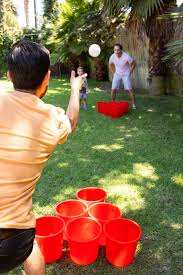 Yard Pong
Looking for a fun and exciting outdoor game for your next event in the Chicago suburbs? Look no further than our Yard Pong game rental!
Yard Pong is a classic game that has been enjoyed by people of all ages for decades. Our Yard Pong game rental includes everything you need to set up and play this fun and exciting game, including 12 large buckets and 2 balls. The cups are made of durable plastic and are perfect for outdoor use.
To play Yard Pong, simply set up the cups in a triangle formation on a table or other flat surface. Then, take turns trying to throw the balls into the cups. If you make a ball into a cup, the other team has to drink the contents of that cup and remove it from the table. The first team to eliminate all of the other team's cups wins!
Our Yard Pong game rental is perfect for backyard barbecues, family reunions, corporate events, and more. It's a great way to get people up and moving, and it's sure to be a hit with guests of all ages.
So why wait? Contact us today to reserve your Yard Pong game rental and add some fun and excitement to your next event in the Chicago suburbs!